People who know me know that I like complicated games which are often set in an economical setting. One of my -still- favorite games is the immensly hard Capitalism.

While browsing around a few days ago I stumbled onto the Russia based game 'virtonomics', which basically is Capitalism online where you can produce, sell, research virtual products to build an business empire. Of course while competing against other players from all over.
So of course I had to join in to see what it is all about. If you think games like earlier mentions Capitalism or Civilization has a slight overdose of report screens, wait until you take it online. You can spend ages clicking from report to report, but it makes it the more interesting for the near future.
Because of this and probably what will be my ultimate attempt to never attract girls again to this place, I'll write on a regular basis ( as long as my internet connectivity lasts I guess ) about my exploits in this game.
(Note: if on basis of this report you'll like to try play Virtonomics, please use this link to register, yes I will like you more then).

First weeks
So day one arrived. From a rich uncle I got a 'random' gift, which I picked since I like random things in life. I got a store with clothing, a factory produces 'essential oils', a mill who grinds grain to flour and an office. And for the lab rats a laboratory, which functions as R&D office. So I guess I'm in business on my way to become an apparel/oils/flour tycoon.
My first worry of course is with the randomness of my produce, but I decide to look around for a few days and then decide which strategies go out the window and with deserve investments.
After fiddling with my personal, paying them enough (socialist or not a socialist), hiring some people and finding suppliers for my clothing store it's time to wait a bit.
On basis of marketing in the city of Nantes, France – where I'm based I'm taking a guess for football shirts and sports equipment, both of which have decent supplier ( cheap and good enough to set a competing price ) and promote my store for the bargains.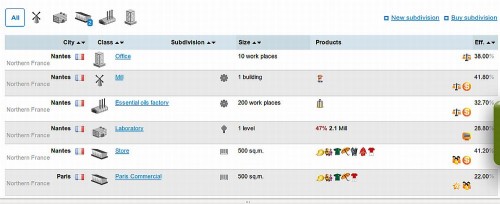 (Subdivisions) And the award for horrible manager of the year goes to…
The first week ( 24 hr in real life ) I make a decent 100K profit. Yeah! I get a bit overexcited and jolt my factory and mill to full staffing for extra production. Next week I get hit by a 400K loss. Whelp! It turns out my office is not equipped to deal with so many new people at one time, while 'efficiency' is king in this game. My production costs exploded 10-fold because of this and I have to swallow the beating.
So I restructure, open a new store in Paris to explore my football-shirt possibilities there. Ah if life only was a few mouse-clicks away.
Strategy for the next weeks is to stabilize my current undertakings, see how to max out profits and getting new funds invested in a few new stores. I found a few niches where supply is horrible. So a good time to step into a new line of production. I'm not telling which as of now, but I'll keep posted.
In the comments please tell me how you like these reports and of course your own adventures on virtonomics!
Signed from the boardroom,