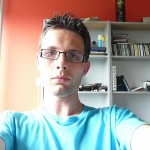 De Republiek is the personal blog of 'basszje'. In use is WordPress with GreenGreen theme (based on GreenChilli)
Currently The Republiek is ungoing some random living. Via Twitter updates and the occasional blog updates are offered to the curious crowd. English and no clue about what all this Dutch mumbling is about? Contact me to motivate me writing more in English! Also if you have any other questions or feelings about this little corner of cyberspace.
Plugins in use are Akismet, Lightbox 2,HL Twitter, Viper's Video Tag, YARPP.
This mess is proudly hosted by Dimme.
Contact-info
Couchsurfing
Twitter
Facebook
Youtube
Tweakers
Email (if you must)
basszje –[at]\ gmx net