By now everybody who tunes into my every now and then know I lost my camera with a whole bunch of top-notch photo's of the already infamous Trinidad to San Borja trip in Bolivia. So unfortunately for me ( and you, dear reader ) I have to do it with text and stealing pictures from google images ( yes I'm that kind of a criminal ) .
I stole two photos from two albums of a blog called NomadKiwis, they look pretty cool so I hope they don't mind.
It's good to consider it is rainy season around here in Beni. That means that almost every form of transport goes 'when it doesn't rain too much'. Even planes who rely on muddy fields to land can be severely delayed.
When I inquired in Trinidad at the terminal there was by accidently a 'camionetta' going to San Borja, onwards on the road to Rurrenabaque. I paid the for Bolivia big sum of 150 Bs and waited until next day.
The camionetta was a small truck on high wheels (4×4) where in the back they managed to squash 16 persons plus luggage. And on we went on our 11 hour trip.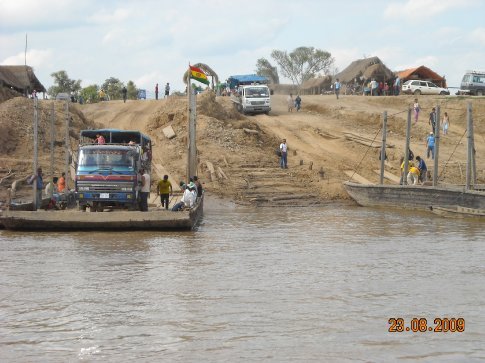 The first part was pretty ok. Only having to cross the river in makeshift 'ponts' connected to small wooden canoes with an outboard engine.
After that mudfest began. I don't know how, but the driver managed to hit the wall of mud with one of the mirrors. We literally passed dozens of trucks and buses who tried but got stuck in the deep patches of mud and were digging themselves out with shovels.
(note to photo below and link up – both travelers where traveling with good weather by the looks of it – I was traveling by rain )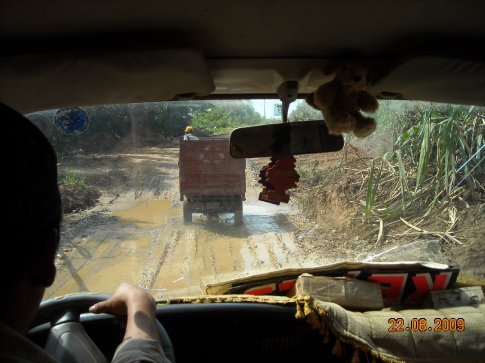 Traveler tip: Never sit at the side of the truck if the wheels don't have any 'flying mud' protection. I managed to get out pretty clean. The girl next to me, not really.

Apart from playing in the mud there was lot's of wildlife around. Dozens of different birds, capivari's and even an autrich.
After 11 hours on a wooden plank in a shaking truck every bone and muscle in my body hurt like hell. But it was one of the best trips in Bolivia.
From San Borja to Rurren, the road was a little better. But still it took three hours the one day to Yacumo, the other day ( looking for my camera ) only a hour and a half, because they bulldozed the thing and it was dry for a day.